Registration is now closed.
Background
Large-scale semantic processing and strong computer assistance of mathematics and science is our inevitable future. New combinations of AI and reasoning methods and tools deployed over large mathematical and scientific corpora will be instrumental to this task. The AITP conference is the forum for discussing how to get there as soon as possible, and the force driving the progress towards that.
Topics
AI and big-data methods in theorem proving and mathematics
Collaboration between automated and interactive theorem proving
Common-sense reasoning and reasoning in science
Alignment and joint processing of formal, semi-formal, and informal libraries
Methods for large-scale computer understanding of mathematics and science
Combinations of linguistic/learning-based and semantic/reasoning methods
Sessions
There will be several focused sessions on AI for ATP, ITP and mathematics, modern AI and big-data methods, and several sessions with contributed talks. The focused sessions will be based on invited talks and discussion oriented.
Confirmed participants/speakers (TBC)
Contributed talks
AITP solicits contributed talks. Selection of those will be based on extended abstracts/short papers of 2 pages formatted with easychair.cls. Submission is via EasyChair (https://easychair.org/conferences/?conf=aitp2019). Accepted contributions will be published in an informal book of abstracts for distribution at the conference.
Dates
Submission deadline: December 1, 2018 Extended: December 3, 2018 (23:59 AoE)
Author notification: December 23, 2018
Conference registration: January 13, 2019
Camera-ready versions: February 1, 2019
Conference: April 7 - 12, 2019
Post-proceedings
We will consider an open call for post-proceedings in an established series of conference proceedings (LIPIcs, EPiC, JMLR) or a journal (AICom, JAR, JAIR).
Program Committee
Location, Prices and Further Local Information
The conference will take place from April 7 to April 12 in the stunning scenery of the Tyrolean Alps in the Obergurgl Conference Center of the University of Innsbruck. The pictures of the rooms are here. Obergurgl is a picturesque village located at an altitude of 2000m, a 1-hour drive from Innsbruck. It offers a variety of winter-sport activities such as skiing, snowshoeing and hiking at this time of the year. The total price for accommodation in a twin room (based on 2-person occupancy), food (half-board) and registration for the five days will be around 670 EUR. There are also several hotels in Obergurgl - booking early is recommended.
Hotels in Innsbruck
If you stay in Innsbruck before/after the conference, we recommend the following hotels, we have good experience with
Hotel Weisses Kreuz (city center, nicer, traditional)
Basic Hotel (city center, roughly 3 stars)
Hotel Penz West (close to the airport)
Skiing equipment and passes
You can rent skis/snowboards/boots/helmets in Obergurgl or already in Innsbruck. It might be hard to rent clothing in Obergurgl, but it is possible in Innsbruck (e.g., here).
Ski+Boots rental per day: 30-50Euros per day (depending on the quality).
Obergurgl daily ski passes: From noon: 40Euros. From 11am: 45Euros. 3 days: 143Euros

Here are two photos from 2016 showing the skiing conditions and the village (with the conference center hidden on the right side of the photo) taken in April.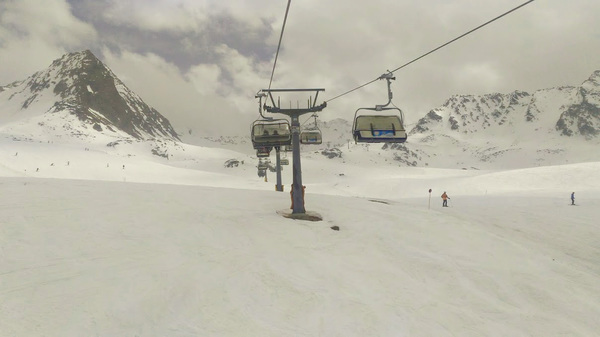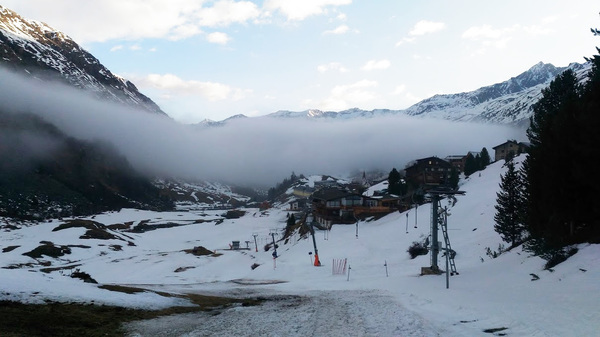 Acknowledgements and Sponsorship
We thank the University of Innsbruck for their support of the Obergurgl conference center.