2nd Conference on Artificial Intelligence and Theorem Proving
AITP 2017
March 26–30, 2017, Obergurgl, Austria
Registration is already closed. See below for the list of talks, schedule and local information
Background
Large-scale semantic processing and strong computer assistance of mathematics and science is our inevitable future. New combinations of AI and reasoning methods and tools deployed over large mathematical and scientific corpora will be instrumental to this task. The AITP conference is the forum for discussing how to get there as soon as possible, and the force driving the progress towards that.
Topics
AI and big-data methods in theorem proving and mathematics
Collaboration between automated and interactive theorem proving
Common-sense reasoning and reasoning in science
Alignment and joint processing of formal, semi-formal, and informal libraries
Methods for large-scale computer understanding of mathematics and science
Combinations of linguistic/learning-based and semantic/reasoning methods
Sessions
There will be several focused sessions on AI for ATP, ITP and mathematics, modern AI and big-data methods, and several sessions with contributed talks. The focused sessions will be based on invited talks and discussion oriented.
Invited talks
Contributed talks
Alexander Bentkamp, Jasmin Christian Blanchette and Dietrich Klakow: An Isabelle Formalization of the Expressiveness of Deep Learning
Chad Brown: Problems from the Grundlagen
Przemyslaw Chojecki: DeepAlgebra - an outline of a program
Joe Corneli and Moritz Schubotz: math.wikipedia.org: A vision on a collaborative semi-formal, language independent math(s) encyclopedia
Michael Färber, Cezary Kaliszyk and Josef Urban: Monte Carlo Connection Prover
Jan Jakubuv, Josef Urban and Robert Veroff: Towards AI Methods for Prover9
Eugen Kuksa: Logic-Independent Premise Selection for Autormated Theorem Proving
Ramana Kumar and Benya Fallenstein: Applying Formal Verification to Reflective Reasoning
Yutaka Nagashima Towards Smart Proof Search for Isabelle
Karol Pąk and Aleksy Schubert: Greedy Algorithms for Finding Maximum Number of Then Step in Reasoning
Bruno Woltzenlogel Paleo and John Slaney: Proof Search in Conflict Resolution
Marwin Segler and Mark Waller: Chemical Discovery as a Knowledge Graph Completion Problem
Josef Urban and Jiri Vyskocil: Progress in Automating Formalization
Dates
Submission deadline: December 1, 2016
Author notification: December 23, 2016
Conference registration: January 20, 2017
Camera-ready versions: February 1, 2017
Conference: March 26-30, 2017
AITP solicits contributed talks. Selection of those will be based on extended abstracts/short papers of 2 pages formatted with easychair.cls. Submission is via EasyChair (https://easychair.org/conferences/?conf=aitp2017). Accepted contributions will be published in an informal book of abstracts for distribution at the conference.
Informal proceedings
The (extended) abstracts of all the invited and contributed talks are now available online.
Post-proceedings
We will consider an open call for post-proceedings in an established series of conference proceedings (LIPIcs, EPiC, JMLR) or a journal (AICom, JAR, JAIR).
Program Committee
Arrival and departure
A bus bringing the participants from Innsbruck to the conference center and back is provided.
On Sunday the 26th the bus will depart from Innsbruck Central station at 10:45am, leave from the airport at 11:15 am and continue to Obergurgl.
Please note the time change which happens in Europe on the night 25/26th March.
If you want to join the bus at the train station look for the Info-Point. There, you will find the bus driver with the sign "University Center Obergurgl" as well as some of the University of Innsbruck organizers.
If you want to join the bus at the airport, the bus will stop in front of the terminal, it will have the "Obergurgl" sign, and there will be organizers joining the bus as well.
We expect to reach the conference center around 1pm, and after checking and lunch the first session will start at 3pm.
On Thursday: check-out by 10am, bus leaves at 10:30, arrival in Innsbruck between 12:30 and 13:30 (depends on weather conditions and traffic). The bus will first stop at the airport and then in the city center (main railway station).
Program (preliminary)
March 26
March 27
March 28
March 29
Pictures from the Conference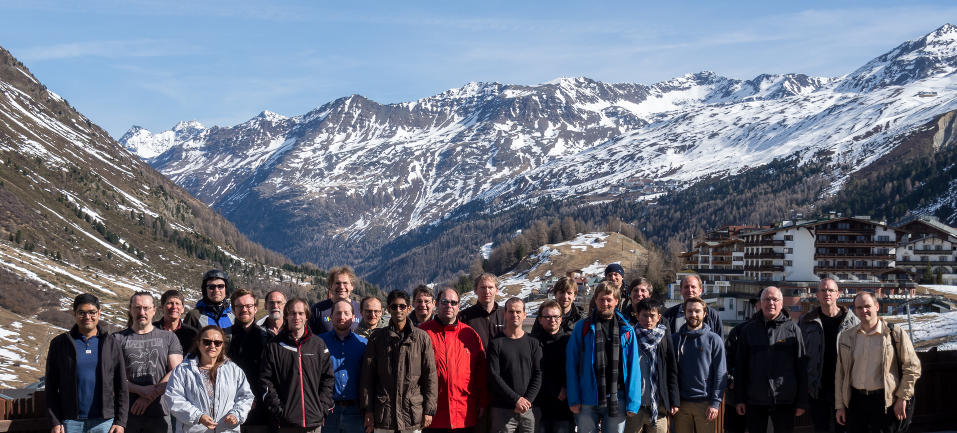 Acknowledgements and Sponsorship
We thank the University of Innsbruck for their support of the Obergurgl conference center.